A glass of a pretty decent red wine, kids have finally went to sleep as well as my exhausted wife who is trying to grab some sleep between very frequent wide-awake intervals that my younger daughters has.
I'm resting in an armchair, staring in my shelf. For those among you who know me, they know what shelf I'm talking about and words. Someone would say this is my late night fish tank.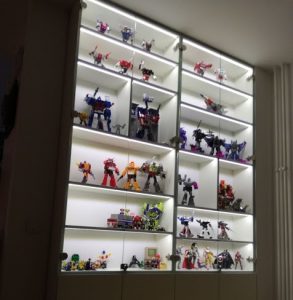 It's much more than a plan shelf, love for cartoons, robots, comic books but – above all – love for super heroes. That particular love helped me a lot in what I'm doing now – digital marketing. Considering that all that I've left from the bottle is that one glass of wine, I will try to keep the explaining this love short and sweet.
Making a good movie is not enough. In other words, if you believe that "Content is the king" phrase is enough, maybe you should rethink and DC for creating such an elaborate mechanism which doesn't focus only in pre-promotion, but rather on plan of activities for a whole year. It's an excellent showcase:
– Custom made or plug in events (Comic Con being the most recognizable one)
– using actors, or rather "milking them for all their worth": social media engagement, participating in various panels and shows, etc. In our digital marketing world, we called it influencer marketing:) Someone will say, for them it's easy. Yes, it's easy, when you co create with someone, then promotion comes as a cherry on a cake
– Online part is already well known, creating hype where there's really no hype
– Cooperation with various brand Marvel)
We have a great content and now they are trying to fix that with separate movies.
Applied in marketing campaigns, if you use a face in a campaign (the real or imagined one) give people a chance to get to know him or her and Volvo Company.
We all know that moment when a guy who is terrible in telling jokes is trying to tell the world's best joke, but that is just not it and it will be crystal clear to you. Especially, focus on what the producers are saying.
https://www.youtube.com/watch?v=sAOzrChqmd0
Translated to the marketing language, if you would like for your story to last longer, everything needs to be preplanned, with extremely precise timeline.
The end of the good story, actually, needs to be a beginning of a new one. The biggest mistake we make when creating content is cutting the branch we are sitting on. We have a great campaign, content and the ultimate moment of meeting Thanos. For others, it was an ideal beginning of getting to know the Avengers.
The glass is empty, but I think I will stay a bit longer, just watching my shelf. I always think that the position of action figures can always be better.