Koliko god mi to nekad osporavali, moramo da se suočimo sa činjenicom da smo ograničeni te nas to sputava da probamo nešto novo. Posebno je zanimljivo ako to pogledamo sa strane naše ishrane.
Ako pogledate slave, proslave, rođendane, generalno naša domaćinstva videćete uvek pa skoro istu sliku. Vezujemo se brzo za stvari i teško prihvatamo nove. Potpuno je logično da se držite proverenih stvari jer ako su dobre ne treba ih menjati ali sa hranom takva pravila ne važe. Čim pre to shvatite, to je bolje za vas.
Meni se nešto slično desilo pre par godina. Na prvi pomen reči humus, odma pomislite na cveće, zalivanje, bašta, na kraj pameti mi nije bilo da je reč o hrani. Nakon nekoliko dana objašnjavanja, hoću neću, odlučio sam da probam.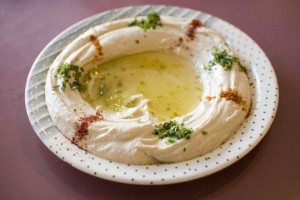 Koliko je ovo dobro, je moja rečenica obično kad probam nešto novo i tako je bilo i ovog puta. Jelo gde je akcenat na leblebijama, tahini sosu i belom luku. Originalno ovo jelo je iz Egipta ali je simbol Bliskog Istoka i glavno je obeležje Libanske i Izraelske kuhinje. Najbolja stvar u vezi sa ovim je što se ovo jelo preporučuje vegetarijancima. Problem je što kad krenete da ga jedete, jednostavno ne možete da stanete.
Uglavnom se preporučuje kao dodatak glavnom jelu ali iskreno meni je mnogo bolje kad humus jednostavno pomešate sa pogačom.
Postoji nekoliko mesta u Beogradu gde možete kupiti gotov humus ali svakako preporučujem Hummus house u Carice Milice.